rubber tiles at 3/8″ gauge with square or interlocking edges
Square
SQUARE: 27″ x 27″ nominal
(686 mm x 686 mm nominal)
Thickness: 3/8″ (9.5 mm)
Interlocking
INTERLOCKING: 25-3/4" x 25-3/4" nominal
SQUARE SIZE: (609.6 mm x 609.6 mm nominal)
Thickness: 3/8″ (9.5 mm)
The first in the industry.
No crumb rubber. No Red List Chemicals.
No delamination, guaranteed.
A sports floor that performs like no other.
Tuflex® Spartus tiles are manufactured using a simultaneous vulcanization process and a new, industry-leading Red List chemical free formulation that is FREE of tire-derived crumb rubber – the first in the industry! NewTuflex® is FREE of crumb rubber and the hazardous chemicals that can leach through the top layer of other sports flooring, causing discoloration and toxic emissions.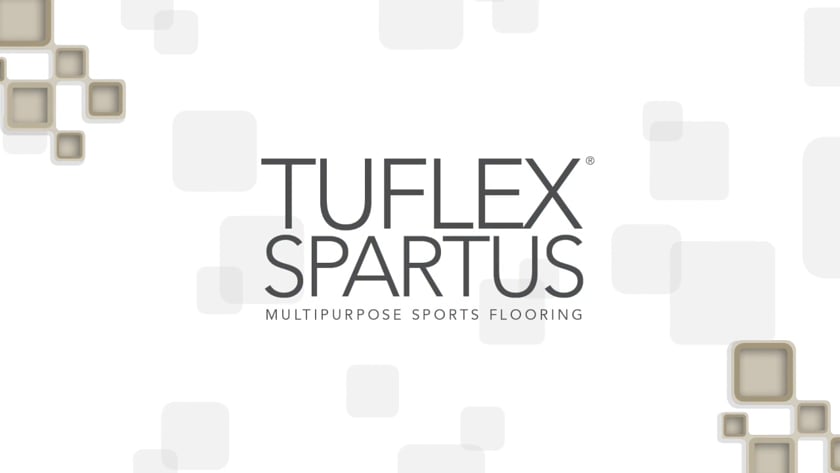 Ready for a workout. 100% recyclable. Long-lasting color.
We have formulated the top layer of Tuflex to be a mixture of EPDM and SBR both to optimize the top layer performance. Tuflex is ready for a workout in everything from weight rooms to high traffic retail locations.
New Tuflex® Spartus is 100% recyclable and made from 33% recyclable material with a minimum of 26% pre-consumer recycled rubber content for a closed-loop manufacturing process. Approved, recycled rubber products reclaimed through Roppe's IMPACT program are used to manufacture Tuflex® products, and new Tuflex®  is 100% recyclable using our IMPACT recycling program.
Long-lasting color, guaranteed.
Our exclusive 10-year aging performance warranty meets or exceeds minimum performance attributes for light stability to make sure your facilities stay in top condition for years to come.
expand your flooring options
Tuflex® Spartus tiles provide a wide color palette for a variety of applications, including Healthcare, Education, Fitness, Pet Care and Hospitality.
Plus, it's FREE of crumb rubber for a healthier environment.
Healthcare
Rehabilitation, Long-term Care, Physical Therapy
Education
Recreation, Weight-room Facilities, Field Houses
Fitness
Clubs, Community Wellness
Sports Facilities
Tunnels, Dugouts, Training Rooms
Pet Care
Doggie Day-care, Veterinary Clinics
Hospitality
Fitness rooms
tuflex spartus multipurpose sports flooring photo gallery
14 color options.
Sports flooring doesn't have be just black. Tuflex® Spartus is offered in 14 colors to provide you the design flexibility you want.  And when you add custom color options* to our precision-engineered waterjet cutting capabilities, every performance can be your best.
* 2,000 sq. ft. minimum